NO NEED TO FILL UP WITH WATER FOR OUR ULTRASOUNDS. BRING THE WHOLE FAMILY.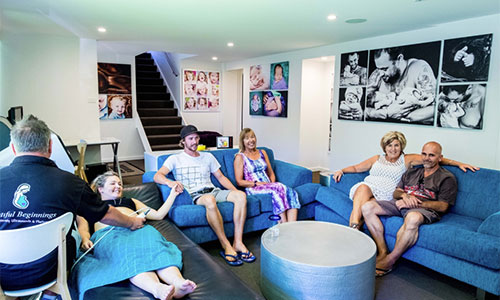 Here at Beautiful Beginnings we use the leading ultrasound technology
– 10D FACIAL RECOGNITION –
The most advanced ultrasound technology in Australia. Offering 10D Facial Recognition scans to all my Bonding Scan at no extra cost.
Gender checks at 15 weeks and Bonding Scans any time.(best time 27 to 29w but can do up to 36w) Based in Newcastle with offices at Berkeley Vale,Central Coast and Taree, Mid North Coast.
Established in 2012, we have shared the joy of introducing hundreds of couples to their precious baby, or sometimes babies.
Our ultrasound lounge has been designed so the whole family can enjoy this experience. We have comfortable lounges, plasma viewing screens and your scan photos will be emailed to you on the same day.
As we are a non-diagnostic service this means you spend the whole time looking at your precious baby. You may even get to see bub smile, yawn, wave or wink. .
Beautiful Beginnings ultrasounds does not replace your medical ultrasound.
Every scan and every pregnancy is different. Getting a beautiful image of bubs face is not always possible depending on the position of the baby. Hands and feet can also get in the way. As this is not a medical ultrasound we do allow plenty of time to work on showing you your bubs features.
Gender Checks*
Gender checks are available providing bub is in a good position we will be able to show you the gender. If you choose to keep bubs gender a surprise that is fine as well.
Book Now: